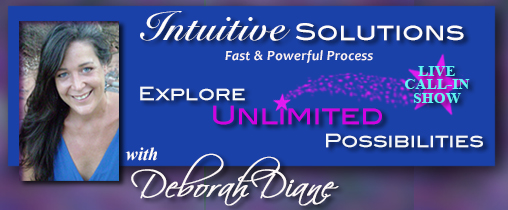 ~ Testimonial ~
"The radio show archives are phenomenal! I didn't notice anything the first time through but then downloaded them and listened a second time through, only this time I asked and accepted that it can work on me and for me. I drive tons of miles a day so it was a perfect opportunity to listen and do the clearings with you and it was like layer by layer I felt them more and more. I wish everyone would listen to what I am sharing so that all can experience life this way! I'm so glad I found you and so grateful you do what you do and share it with the world. Thank you, thank you, thank you! It truly changed my life!!!!!!!!!" Jenni B – Haslet TX
Radio Show Clearing
Experience powerful clearing by listening to this pre-recorded live show!
This show is being offered as an introduction to Conscious Repatterning. Get a taste of how Deborah facilitates sessions, and if you are open to experience clearing, by "opting in" you can experience benefit from any of the clearings you hear throughout the show! Release fear-based thought patterns, blocks, resistance, self judgment and more. The benefit you receive is based on what you allow, so listening multiple times may be necessary. It is your decision whether to participate in the clearing or not. All commercials are edited out, so sit back, relax and enjoy!
Click the play button below:
Listen to Archives:
The following links will redirect you to Transformation Talk Radio Website
Intuitive Solutions with Deborah Diane – Motivation, Part 2
What motivates you? Deborah identifies and discusses the top three primary motivators as well as what is actually the highest choice in motivation. Understanding that Love just "is", "enough-ness" and "feeling your gratitude" all make an appearance in the lively discussion. New York City caller clears his discomfort with "complacency", the "unknown", and his pattern of "over-thinking" in his entrepreneurial business. Deborah brings in "trust" with the highest divine flow and transition. Ft. Lauderdale caller clears with three people in her life that are being "manipulative" with money. Then releases her "distrust in humanity" and opens to feeling the "Love that she is".
Psychic Solutions with Dr. Pat – Guest Host Deborah Diane – Beliefs
Deborah is invited to host nationally acclaimed "Dr Pat Show". Gwen and Mark join to explore how our beliefs create our experience, how quantum physics is validating Deborah's work, and how we truly are only limited by our beliefs. Caller from Carlsbad, CA clears "fear and resistance" holding her back in her music. Tacoma caller clears with his soul connection and clears blocks to knowing his soul purpose. A Bellevue caller clears with her "hatred" and "distrust" of money. Deborah offers clearing directly to all radio listeners, clearing "fear", bringing in a positive focus, authenticity, and the belief that positive aspects of our lives are more fun, more interesting, more exciting than trauma and drama in our lives. Very exciting!
Intuitive Solutions with Deborah Diane – Motivation
Why do we choose to connect with the people in our lives? Why not others? Deborah helps Gwen and Mark identify the subconscious beliefs, primary motivators, and the "payoff" in relationships. Maui caller clears with her need to "mother her mother", processing anger in the highest and best way, and bringing in confidence to feel "empowered in her own process". Deborah helps a Seattle caller clear "heaps of debris" remaining from a traumatic adolescence and an early failed marriage, opening her to trust self, heart, and soul.
Intuitive Solutions with Deborah Diane – Dealing with Overwhelm
Exploring and clearing the blocks and patterns leading to overwhelm. Mark clears with over-responsibility, guilt, and the belief that "feeling equals weakness". Gwen clears with her anger that juggling all these balls is the way her life has to be right now. Baltimore caller transitioning from corporate life to a holistic career clears anger toward her soul and her "holding pattern" and moves into balance. Yreka caller with a string of failed relationships clears with "self-deception", "rejection" and the pattern of being "trampled on".
Intuitive Solutions with Deborah Diane – The Dynamic Between Men & Women
Jealousy, attachment, desire to control, caveman behavior of "mine", and competition in relationships. Deborah clears with her own pattern of "claiming my man", and Gwen with her belief that SHE is a possession. Mark shares his philosophy of finding the "truth" of the relationship, even after intimate breakups. Eugene, OR caller clears with her pattern of complacency and self-doubt so that decision making becomes easier. New York City caller clears with her blocks to improved relationships with men, women, and money.
Psychic Solutions with Dr. Pat – Everyday Miracles with Deborah Diane
From her own experience of working with Deborah, Dr. Pat calls Deborah's work "profoundly effective" and "stepping into a life of ease, abundance and gratitude is Deborah's hallmark within her own life and with her clients". Deborah shares the story of her own miraculous healing as well as her first time she assisted someone in their healing. Callers clear with picking up unwanted energy and toxicity from others, fear of earth/nature, blocks to physical healing of foot/leg pain, and several core relationships holding callers back from catalyzing forward movement in their lives.
Intuitive Solutions with Deborah Diane – Clearing Blocks to Success
Exploring and clearing the subconscious belief that being on earth has to involve suffering. Redefining: "learning lessons" to "soul growth". Gwen gets a "whack a mole" metaphor, and Mark clears with fear of being alone if he maximizes his potential. A Washington State caller asks for clearing to best support a friend who has tragically lost a child. A Brooklyn caller asks for repatterning of a multi-generational family compulsion to "fix and control" one another. Deborah helps her clear with "fear of rejection" and expands the clearing to include all areas of her life.
Intuitive Solutions with Deborah Diane – Relationship Clearing
Deborah, Gwen and Mark question how do you know clearings work? What is actually happening when you "clear" a relationship? Can you do clearings yourself? Boulder, CO caller clears with unhealthy family attachments, obligations, and a recurring "bullying pattern". A Seattle caller has a powerful experience clearing fear of death, panic attacks, and confusion in her spiritual beliefs. Deborah intuitively identifies her miscarried brother and his subconscious role in her fears. Wow.
Intuitive Solutions with Deborah Diane – Resistance
Deborah, Gwen and Mark explore their resistance as it expresses itself as anger, diversion, smoke screens, and more. Deborah and Mark clear childhood trauma that reveals a hidden subconscious belief that Deborah learned from her family. St Petersburg caller asks insightful questions about Deborah's work, then clears patterns and blocks to fully trusting his intuition, opening his heart, and living his full potential. A real pain in the ass lady Rhode Island caller clears with her father and patterns from her mother that no longer serve her.
Intuitive Solutions with Deborah Diane – Placebo Effect
What starts out as a general discussion about the power of our beliefs gets deeply personal for Gwen after she clears fear and then uncovers something about herself that she has never been able to see before. Los Angeles caller clears trauma and abuse by a family member. Deborah helps her move through her "diversion tactics" and open to allowing love into her life. NYC caller is torn between continuing a successful Wall street career or moving into a more spiritual life. Deborah identifies a 'self doubt' pattern learned from his mother, and helps him "trust his soul", "trust his words", and move into self-acceptance.
Intuitive Solutions with Deborah Diane – Opening to Intuition
Deborah and Gwen share their personal experiences of opening to, receiving, and discerning intuitive guidance. Seattle caller clears patterns/blocks inhibiting her new business, her blocks around "money", and Deborah helps her "step into her power". Sedona caller, clears with her "disappointment around men", and her pain from concern that it may affect her young son.
Psychic Solutions with Dr. Pat – Release Subconscious Limitations with Deborah Diane
Deborah responds to Dr. Pat's question: What challenges have you overcome to bring your intuitive gift into the world? Caller Harmony clears with her victim of abuse pattern and the fear it has been passed to her young daughter. Seattle caller believes her stuttering has resulted in her "fear of rejection". Deborah intuitively sees it as "fear of who she is", then identifies and clears the underlying blocks and patterns. Tacoma caller clears blocks to "living his life's purpose" and is a little stunned by how quick, easy and graceful Deborah's clearing work can be.
Intuitive Solutions with Deborah Diane – Repatterning Beliefs
Deborah, Gwen, and Mark explore and answer some of the most asked questions about Conscious Repatterning. Alaska caller clears negative emotion and feelings of loss with his "adoptive" mom. Return caller clears deeper patterns with bulimia, a stress pattern learned from her mother, and discomfort of "people watching her". Ultimately, Deborah helps her see herself through "love".
Intuitive Solutions with Deborah Diane – Financial Flow, Part3
The final show in the three part series clearing financial blocks brings up some "nutty" subconscious contributors to blocked finances! The live call in segment includes a caller's communication blocks followed by relationship blocks.
Intuitive Solutions with Deborah Diane – Financial Flow, Part2
Deborah, Gwen, and Mark continue to address their own financial blocks in this fast paced and fun episode. The live call in segment includes a calls concerning retirement and a previous caller returns to share his "fantastic" results from a prior clearing.
Intuitive Solutions with Deborah Diane – Financial Flow, Part 1
Surprising blocks to financial flow arise in the group clearing between Deborah, Gwen, and Mark. Emotions arise during the live call in segment as Deborah uncovers a whimpering heart.
Intuitive Solutions with Deborah Diane – Karma
Deborah defines karma intuitively followed by releasing karmic cycles and loops. Deborah works with a repeat caller on a father/anger loop and not feeling supported. Attachment to relationship is also brought up the final segment with a fun but emotional caller.
Intuitive Solutions with Deborah Diane – Healthy Sexuality
Deborah, Gwen, and Mark explore the topic of healthy sexuality and belief systems passed down to them through their genetics. Energetic association with collective influence also comes up in discussion, as well as judgment, projections, and self-love. In the live call in segment Deborah works with the root cause of bulemia and energetic disturbances.
Intuitive Solutions with Deborah Diane – Lonliness
Do you know the difference between lonliness and being alone? Deborah, Gwen, and Mark discuss the value of taking time for yourself and clear beliefs about lack when not engaged in intimate relationship while also aligning with healthy loving relationships. Relationship treachery is addressed in the live call in segment. Chris DiPaola joins the clearing fun again in the final segment.
Intuitive Solutions with Deborah Diane – Communication
Clearing blocks to communicating effectively. Deborah, Gwen, and Mark discuss the power of words. Callers clear with inherited blocks to financial success and flow, beliefs that money is evil, and replacing it with the belief that money will enable her to do more good in the world. Also clearing with abuse patterns, motherhood, and the masculine.
Intuitive Solutions with Deborah Diane – Competition
Where does our need for competition come from? Clearing with insecurity and blocks to self-acceptance and anchoring in authenticity. Callers clear with blocks to making and managing money. Transitioning from a marriage, into a new business, releasing fear to move forward with universal support. Deborah checks in with our station producer, Chris, to clear with his racing mind, feeling disconnected from himself and stress of the unknown. Deborah identifies and clears his fear that letting go of anxiety and a racing mind will inhibit his multi-tasking mastery.
Intuitive Solutions with Deborah Diane – Authenticity
Showing up "authentically" for your life. Deborah, Gwen, and Mark delve into the blocks and subconscious patterns underlying the fear of being authentic and finding healthy motivation. Deborah introduces the new show name, Mark reviews how his "sugar" clearing from two months ago is going, and a previous caller shares the powerful changes in her life since her clearing work with Deborah.
Intentional Living with Deborah Diane – Oneness
"Us" versus "Them" mentality, and are we just "belief machines"? Deborah, Gwen, and Mark spark an interesting discussion, then identify and clear blocks that separate us from one another, and life. A caller clears career transition blocks and with the belief that you can't have a job you love AND be paid well. Yes, you can!
Intentional Living with Deborah Diane – Living on The Edge
Is life a gamble? If so, is that what makes it good? Deborah, Gwen and Mark discuss and clear with our attachment to drama and bring in self-acceptance. Callers address and clear with childhood trauma, non-commitment to self-care, trusting decision making, and residual emotional consequences from a childhood move from India to the US.
Intentional Living with Deborah Diane – Making Intention Setting Easy for the New Year!
New Year's Eve show filled with lively discussion on Intention setting. Deborah, Gwen and Mark model Deborah's unique process by identifying and clearing blocks to powerful intention setting. Show callers ask Deborah to address clarifying life purpose, fear of taking things to completion, and clearing blocks to ideal health, finances, and relationships.
Intentional Living with Deborah Diane – More Simple Techniques to Connecting to Your Intuition
How does Conscious Repatterning work? Deborah and Gwen detail the art of connecting to intuition and opening to guidance. Callers work on clearing confusion to life's purpose, relationships, and the pattern of doom and gloom. Two previous week's callers describe their transformative experiences since working with Deborah on the air.
Intentional Living with Deborah Diane – Simple Techniques to Connecting to Your Intuition
Deborah shares easy ways for you to connect to your own intuition and introduces us to "truth chills". One of last week's callers is invited back to offer feedback on her clearing. Deborah works with a NY City caller experiencing painful sensory overload in the chaotic "concrete jungle".
Intentional Living with Deborah Diane – Exploring Intimate Relationships
Deborah introduces their producer "Question-Mark" and gives him free reign to ask his questions. A good laugh for all! Deborah then shares another one of her inspiring stories, describing her connection with Archangel Michael, before discussing common blocks to healthy, loving relationships. During the live call in segment Deborah works with relationships.
Psychic Solutions with Dr. Pat: Transforming Subconscious Limitations with Deborah Diane
Last week's caller joins the show to share the powerful results she received from clearing with Deborah during The Dr Pat Show on Nov 16th. During the live call in segment Deborah works with career blocks, money, and relationships.
<!Rochelle>
Intentional Living with Deborah Diane – Show Debut
Deborah describes her incredible story of how she discovered her life's work and shares stories from some of her recent experiences with clearing sugar addiction and an instantaneous physical effect from clearing! During the live call in segment Deborah works with relationship codependency and writer's block.
Get Ready For International Sensation Deborah Diane ~ Live Interview with Dr Pat
Dr. Pat Baccili, host of The Dr. Pat Show, introduces Deborah to her listeners. After some introductory questions on Deborah's background and story, they took live calls and did some Conscious Repatterning on the air prompting Dr. Pat to call Deborah's work "phenomenal".